The WhatsApp Prepaid SIM card offers an interesting mobile phone plan, not only if you mainly use WhatsApp to communicate. The great advantage of this plan is that you will be able to use WhatsApp any time, even if you do not have any credit left. This plan is available in Germany, but can be used in all of the European Union due to free EU-roaming.
The general system of the WhatsAll 4000 prepaid plan is also very flexible: You get 4000 credits for four weeks and you can use them for either minutes, text messages (SMS), or megabytes (MB). You do not need to decide beforehand for what you would like to use the credits, which makes it very convenient. You could use all of the 4000 credits for data, or just for minutes and SMS, or also for a random mix of the three components – it is your individual choice.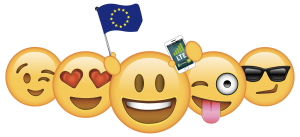 As an example, you could use the credits like the following: 3.5 GB of data, 400 minutes of calls and 100 text messages. This makes it a better deal than both the Vodafone and O2 prepaid sim cards. Or you just use all credits for data and you get 4 GB data for 10€/4 weeks. Even when you used up all of that data, you can still keep using the internet at a limited low speed.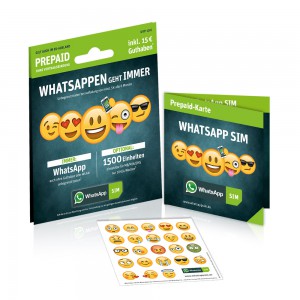 What is included?
Prepaid SIM card without a long-term commitment
WhatsAll 3000: 4000 credits for 4 weeks at a price of 10€
Flexible use of the credits for either data, minutes, or text messages
LTE 4G speed of up to 21.6 Mbit/s
Free EU-Roaming (read more about this here)
After you have run out of credit, keep using WhatsApp for free (without Wifi, without plan, without credits)
You receive 5€ bonus credits when ordering the sim card
How can I order it?
If you are interested in ordering the WhatsApp SIM card, click here: