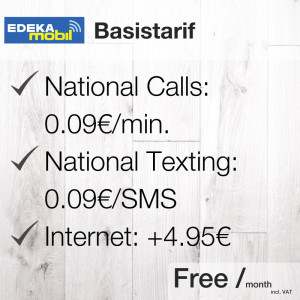 If you have any questions about the plans or anything else, don't hesitate to ask us at support@mygermanphone.de. We will be happy to help you out!
An unexpensive plan by Edeka mobil, that uses the Vodafone network. It is prepaid, you just pay for the next 30 days, if you don't need it anymore you don't have to do anything. Various options can be added every month.
Really convenient: You can pay for it with credit card and you can buy credit for your SIM card online.
You will have to pay 9.99€ to order your SIM card, but Edeka mobil will give you 10€ credit on your SIM card.
UPDATE: This plan does no longer exist. 
Click here and click on "Bestellen" next to the option "Basistarif":
Special: Calling a landline in one of these countries will cost only 0.09€/minute, calling a mobile number will cost 0.29€/minute:
Albania, Andorra, Belgium, Bosnia and Herzegovina, Bulgaria, Denmark, Estonia, Faroe Islands, Finland, France, French Guyana, Gibraltar, Greece, Great Britain, Guadeloupe, Iceland, Ireland, Italy, Jersey, Kazakhstan, Kosovo, Croatia, Canada, Latvia, Liechtenstein, Lithuania, Luxembourg, Macedonia, Malta, Martinique, Moldova, Monaco, Montenegro, Netherlands, Norway, Austria, Poland, Portugal, Romania, Russia, San Marino, Serbia, Slovakia, Slovenia, Spain, Sweden, Switzerland, Czech Republic, Turkey, Ukraine, United States, Vatican City, Cyprus.