First of all, to check how much credit you have left on your sim card, type *100# into your phone and press call. Or call 22 9 22 (free of charge).
To check how much data and credit you have left, you can also download the "MeinVodafone"-App from the AppStore.
In case you have already bought a cash voucher (CallNow cards), you need to enter the code in order to transfer the credit onto your SIM card. Just press these buttons: * 100 * [your voucher code] # and press "dial".
If you want to go the more convenient way and purchase credit online, continue reading or watch our video:
To put any amount into your SIM card, you need to go to
 www.vodafone.de/
, and move your cursor to "Mobilfunk", and then click on "
CallYa-Karte aufladen
" and then on "Jetzt aufladen" or "Direkt-Aufladung".
Once you are there, click on the amount you want to buy (5€, 15€, 25€ or 50€) ("Ich lad jetzt auf").
You will get to a page where you will be able to type in your Vodafone phone number that you can see on the card that I sent you. Insert your phone number into the field "Auf dieses CallYa-Konto aufladen":
On the next page you will be asked to provide your email address for your order confirmation, which you will receive once you completed the order process.
You will get to the next page where you can select the payment option. You can choose between credit card (VISA, Mastercard or American Express), Paypal or Sofortüberweisung (a German payment service that you can use if you have German online banking).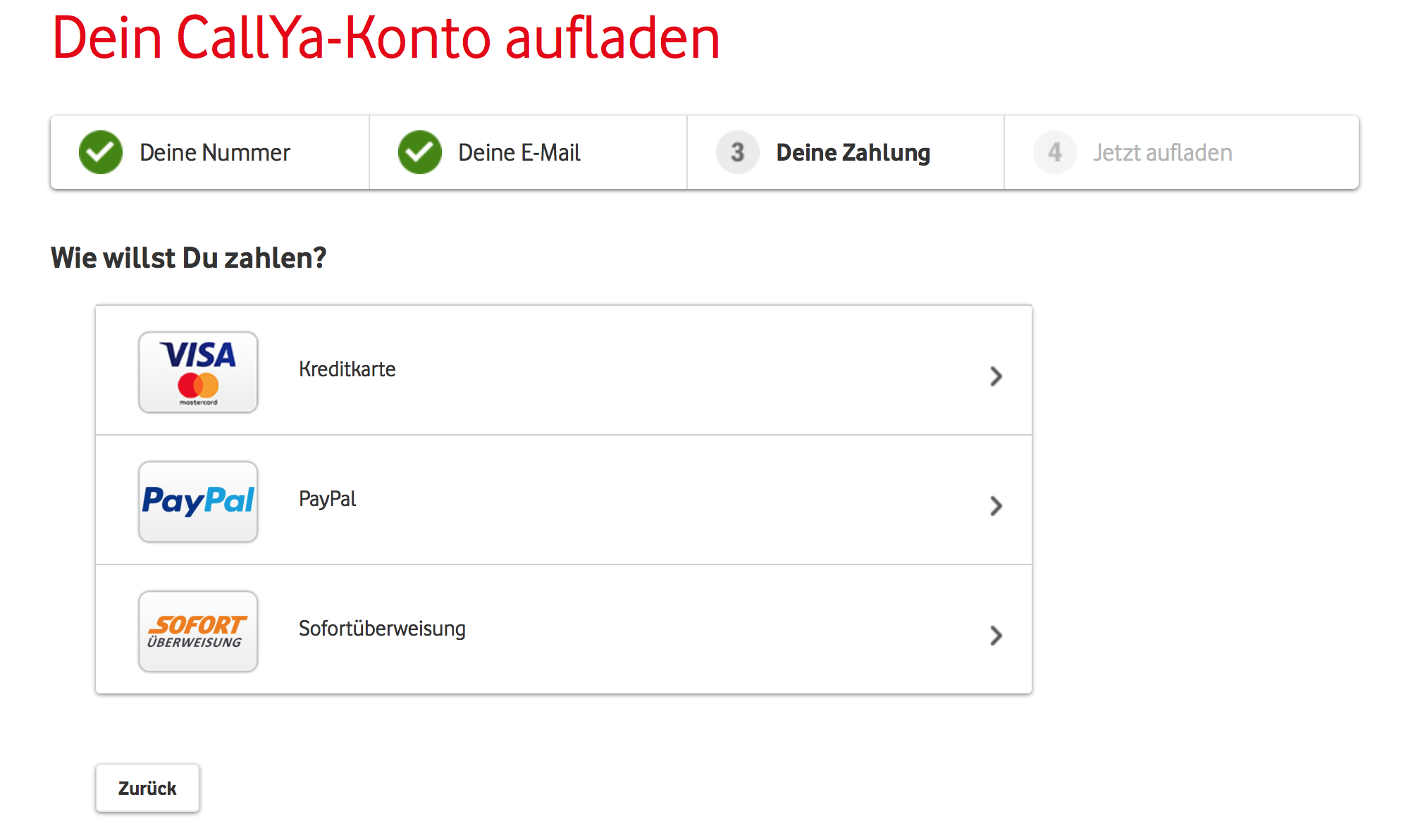 Click on the method you want to use. If you don't have a German bank account, you should choose Paypal or credit card. I will show you the example for Paypal. You will get to the final step, which looks like this:
When everything is correct, click on "Ich bestelle verbindlich" and – in this case – you will be directed to the PayPal page where you can finish the process (or your credit card will be charged). Once you finished the process, you will see the confirmation screen:
The credit will be put on your SIM card and you can use it within minutes. I would recommend putting in the SIM card in Germany, as some costs might incur when you are in a foreign country. You should also receive a confirmation SMS and a confirmation email.