Concerning food, there are local specialities, but anywhere all over Germany you will find "Schnitzel", "Bratwurst" (grilled sausage), "Currywurst" (grilled sausage in small pieces with curry sauce), "gebratenes Hähnchen" (grilled chicken) and "Pommes Frites" (fries) in restaurants as well as snack stalls. And among other nationalities, there are many good Turkish and Italian alternatives, too.
Meals a day:
Most Germans have a substantial breakfast with a slice of German bread (more than 300 sorts of bread!) or a roll with cheese, ham or jam. Some Muesli, a boiled egg and a mug of coffee.
Mostly, Germans have a proper cooked lunch.
And for supper they have a variety of cold ham, cheese on a slice of bread.
Some will have a cooked meal.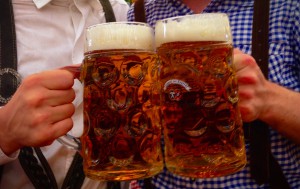 Germans love their beer and are proud of its traditional special way of brewing. Anywhere in Germany you will find famous local breweries. Whereas in most parts of the country its taste is more tart, in the south, Bavaria, you will have some sweetish beers, too.
In the wine areas – most well known are  Mosel, Saar, Rheinhessen, Pfalz, Franken and Baden – you will find beautiful little ancient wine villages and small towns. Most German winegrowers grew white grapes.
Another beverage which is only produced and offered locally is the "Apfelwein", a bit like cidre, which you will find in an area of about 50 km around Frankfurt/Main. You drink it either pure, "süß gespritzt" (diluted with Sprite) or "sauer gespritzt" (diluted with sparkling water). A light snack you can have it with is the local "Handkäs mit Musik" – a marinated handmade cheese with onions, vinegar and oil.
Northern food:
"Labskaus", a traditional hotchpotch of potato, onion, beetroot topped with sour hering and fried egg – delicious!
"Franzbrötchen", a sweet flat pastry with a hint of cinnamon.
Typical dish in the Cologne area:
"Sauerbraten" ( sour marinated roast) with dumplings and cooked red cabbage
Swabian food:
The famous "Schwarzwälder Kirschtorte" (Black Forest cake)
"Maultaschen", a main dish similar to big ravioli
"Spätzle", typical Swabian noodles
Bavarian food:
"Weißwurst"(cooked sausage made of veal, eaten with sweet mustard)
" Schweinshachse"(gammon), "Semmelknödeln"( bread dumplings), "Leberkäse" ( baked beef and pork loaf), "Brezeln"