Anyone, who is in a foreign country and wants to call home, or anyone, who has friends in foreign countries all over the world and wants to stay in touch with them, is looking for cheap ways of communication. Usually, writing messages (Facebook, WhatsApp, Email) is the only free way of communication. Making phone calls is just too expensive and sometimes your friends or family don't have an internet connection, so you can't call them via Skype.  Foreign institutions are also not reachable via Skype, therefore you need to call them via landline.
However there is a Skype offer, which allows you to call the national landlines and sometimes even mobile phones in countries all over the world: Unlimited World subscription. And the best: The first month of this unlimited world calling package is free! I used this during my travels and it worked perfectly, I didn't pay a dime!
What's included:
Call landlines and mobiles in: Canada, China, Guam, Hong Kong SAR, Puerto Rico, Singapore, Thailand, United States.
Call only landlines in: Andorra, Argentina, Australia, Austria, Belgium, Brazil, Brunei, Bulgaria, Chile, Colombia, Costa Rica, Croatia, Czech Republic, Denmark, Estonia, Finland, France, Germany, Greece, Guadeloupe, Hungary, Iceland, Indonesia (Jakarta), Ireland, Republic of Ireland, Israel, Italy, Japan, Korea, Latvia, Lithuania, Luxembourg, Malaysia, Malta, Mexico, Morocco, Netherlands, New Zealand, Norway, Panama, Paraguay, Peru, Poland, Portugal, Romania, Russia, Slovakia, Slovenia, South Africa, Spain, Sweden, Switzerland, Taiwan, Turkey, United Kingdom, Venezuela.
How to sign up
Just click here and sign in with your Skype account (if you don't have one, yet, just create one for free).
How to change the language of the page: Just scroll down and select your preferred language (see screenshots).
In order to subscribe to the offer, you will need to provide valid payment information, but you will not be charged! This is just a security for Skype. Possible payments options are: VISA, Mastercard, Paypal, Carte Bleu, Diners Club, JCB credit card.
After you subscribed to the Unlimited World package, you should make sure to cancel it right away, so you don't get charged after the free month is over. You will still be able to use your full month. Just log into your Skype account on the Skype website and you will see the World Package Subscription on the left (see screenshot). Click on the "Unlimited World 1 month" and you will get to a page where you will be able to cancel the subscription.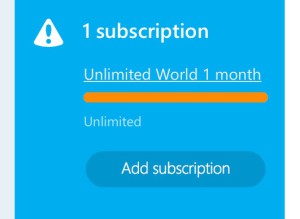 Now you are all set and whenever you are using Skype, you can just dial the foreign number (don't forget the country code) and you will make an actual phone call to the landline or mobile phone.
I hope this tutorial is helpful for you, in case you have any questions, don't hesitate to contact us at support@mygermanphone.de.
In case you are in need of a German SIM card to use with your phone, have a look at how to get a free German SIM card.