HEAVEN FOR YOUR TASTE BUDS
Are you looking for some insider's tip of spots to enjoy an original German food experience – relating to either typical food in a specific area, factory sales, nice brand stores or even visits to the production site?
There are numerous possibilities and I will suggest a few, some of them might be rarely found in a city guide, following the geographical line from cities north to south.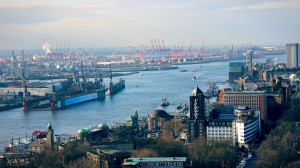 HAMBURG:
BONSCHELADEN – Friedensallee 12, 22765 Hamburg-Ottensen, here you get handmade candy, fudge and lollipops and you can watch the procedure of the production! It is in one of Hamburg's suburbs.
DIE LAKRITZERIE – Barmbeker Straße 189, 22299 Hamburg- Winterhude, they offer a wide range of liquorice – German and other nationality- in a sweet little cosy corner shop.
MUTTERLAND – Ernst-Merck-Straße 9/ corner of Kirchenallee, 20099 Hamburg-St.Georg (this is the main shop, with two more shops in town) this is a lovely shop, a bit pricey, with a wide range of only German delicacy products which are produced by smaller German family enterprises. Ideal for exquisite presents. They offer a daily choice of small snacks, too.
BÄRENTREFF – Mönkebergstrasse 19, 20095 Hamburg, it is a small shop full of all sorts of wonderful gummy bears of a high quality, which are produced of pure fruit juice!
KONFISERIE PAULSEN IN DER RINDERMARKTHALLE – Neuer Kamp 31, 20359 Hamburg-St.Pauli, a confectionary with the most tempting choice of fine chocolates!
FISCHMARKT – Grosse Elbstrasse 9, Hamburg-Altona, opening time: ONLY Sunday mornings, April-October 5am- 9:30am, November-March 7am-9:30am – you have a wide choice of stalls selling fresh fish, fruits, plants and other items, with cheap-Jacks praising their goods. An entertaining event if you are able to get up that early!
We hope you will enjoy these special places in Hamburg! If you are still in need of a German SIM card for your stay, check out the free SIM cards from O2 and Vodafone!